Receipt Lottery Results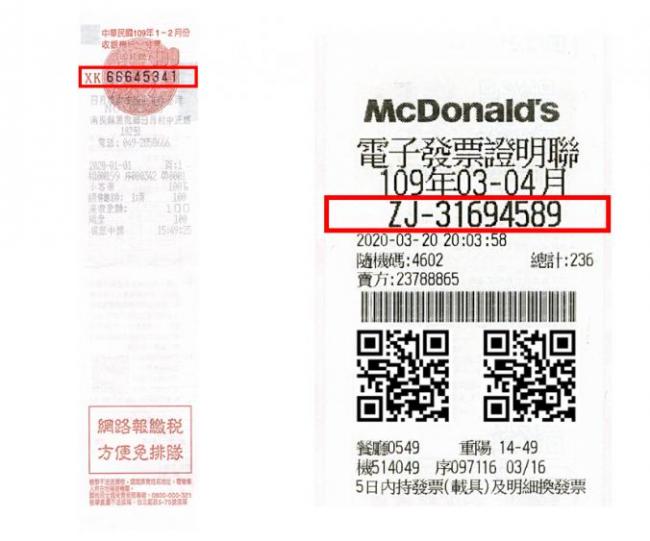 A free lottery designed to reward legal purchases at shops in Taiwan, the Uniform Invoice Lottery draws numbers once every two months. Everyone is eligible to participate (including tourists), and winning tickets of lower amounts can be redeemed easily at convenience stores.
Located at the top of a receipt, the receipt number is 8 digits long, and is prefixed with 2 letters. For the lottery drawing, only the digit numbers need to match.
Multiple prizes are awarded based on category and how many digits match. The 'Special Prize' awards NT$10 million when matching all digits in that category. The 'Grand Prize' awards NT$2 million when matching all digits in that category. The standard prizes award differing amounts based on matching digits. Matching all the digits awards NT$200,000, matching the last 7 digits awards NT$40,000, matching the last 6 digits awards NT$10,000, matching the last 5 digits awards NT$4,000, matching the last 4 digits awards NT$1,000, and matching the last 3 digits awards NT$200. There may be an additional 'Bonus' drawing consisting of 3 digits, which, if matched, awards NT$200.
Lottery drawings occur on the 25th day of every odd-numbered month. Redemption periods generally begin on the 6th of the following month and remains open for 3 months.
Receipts obtained from legal purchases are eligible for the lottery, and function as a way to promote consumer-based activism by encouraging legal tax reporting by merchants. Informal receipts that do not contain a 'Uniform Invoice Number' at the top (8 digit number) are not legal formal receipts (meaning the shop did not report and pay tax on the sale or service), and are not eligible for this lottery.
The information at the top of the receipt will include the shop's name, drawing time period (formatted as Year 年 Month - Month 月), and lottery number. The year number on receipts are formatted as R.O.C. years, meaning years since the founding of the Republic of China in 1911. To find the current year, simply add 1911 to the number. Use this information to determine the proper lottery drawing to inspect receipts for winnings.
After the introduction of 'e-invoices', receipts may be electronically stored on IC cards such as Easycard or iPass when paying by those cards. To check if any e-invoices stored on IC cards have won the lottery, go to a 7-11 and use the iBon machine to check.
03016191
Match all 8 numbers and win NT$10,000,000
62474899
Match all 8 numbers and win NT$2,000,000
Match all 8 numbers and win NT$200,000
Match the last 7 numbers and win NT$40,000
Match the last 6 numbers and win NT$10,000
Match the last 5 numbers and win NT$4,000
Match the last 4 numbers and win NT$1,000
Match the last 3 numbers and win NT$200
Match all 3 numbers and win NT$200
Redeemable between 2020-08-06 - 2020-11-05
91911374
Match all 8 numbers and win NT$10,000,000
08501338
Match all 8 numbers and win NT$2,000,000
Match all 8 numbers and win NT$200,000
Match the last 7 numbers and win NT$40,000
Match the last 6 numbers and win NT$10,000
Match the last 5 numbers and win NT$4,000
Match the last 4 numbers and win NT$1,000
Match the last 3 numbers and win NT$200
Match all 3 numbers and win NT$200
Redeemable between 2020-06-06 - 2020-09-07
12620024
Match all 8 numbers and win NT$10,000,000
39793895
Match all 8 numbers and win NT$2,000,000
Match all 8 numbers and win NT$200,000
Match the last 7 numbers and win NT$40,000
Match the last 6 numbers and win NT$10,000
Match the last 5 numbers and win NT$4,000
Match the last 4 numbers and win NT$1,000
Match the last 3 numbers and win NT$200
Match all 3 numbers and win NT$200
Redeemable between 2020-04-06 - 2020-07-06
59647042
Match all 8 numbers and win NT$10,000,000
01260528
Match all 8 numbers and win NT$2,000,000
Match all 8 numbers and win NT$200,000
Match the last 7 numbers and win NT$40,000
Match the last 6 numbers and win NT$10,000
Match the last 5 numbers and win NT$4,000
Match the last 4 numbers and win NT$1,000
Match the last 3 numbers and win NT$200
Match all 3 numbers and win NT$200
Redeemable between 2020-02-06 - 2020-05-05
41482012
Match all 8 numbers and win NT$10,000,000
58837976
Match all 8 numbers and win NT$2,000,000
Match all 8 numbers and win NT$200,000
Match the last 7 numbers and win NT$40,000
Match the last 6 numbers and win NT$10,000
Match the last 5 numbers and win NT$4,000
Match the last 4 numbers and win NT$1,000
Match the last 3 numbers and win NT$200
Match all 3 numbers and win NT$200
Redeemable between 2019-12-06 - 2020-03-05
45698621
Match all 8 numbers and win NT$10,000,000
19614436
Match all 8 numbers and win NT$2,000,000
Match all 8 numbers and win NT$200,000
Match the last 7 numbers and win NT$40,000
Match the last 6 numbers and win NT$10,000
Match the last 5 numbers and win NT$4,000
Match the last 4 numbers and win NT$1,000
Match the last 3 numbers and win NT$200
Match all 3 numbers and win NT$200
Redeemable between 2019-10-06 - 2020-01-06
46356460
Match all 8 numbers and win NT$10,000,000
56337787
Match all 8 numbers and win NT$2,000,000
Match all 8 numbers and win NT$200,000
Match the last 7 numbers and win NT$40,000
Match the last 6 numbers and win NT$10,000
Match the last 5 numbers and win NT$4,000
Match the last 4 numbers and win NT$1,000
Match the last 3 numbers and win NT$200
Match all 3 numbers and win NT$200
Redeemable between 2019-08-06 - 2019-11-05
03802602
Match all 8 numbers and win NT$10,000,000
00708299
Match all 8 numbers and win NT$2,000,000
Match all 8 numbers and win NT$200,000
Match the last 7 numbers and win NT$40,000
Match the last 6 numbers and win NT$10,000
Match the last 5 numbers and win NT$4,000
Match the last 4 numbers and win NT$1,000
Match the last 3 numbers and win NT$200
Match all 3 numbers and win NT$200
Redeemable between 2019-06-06 - 2019-09-05