Do I need a visa to visit Taiwan?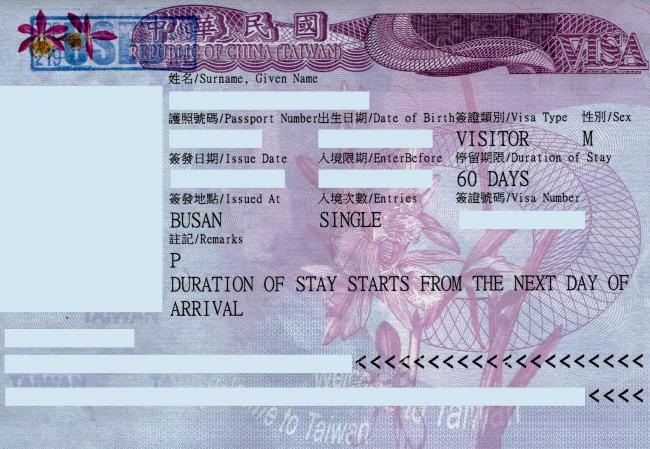 Taiwan (officially the Republic of China) allows visa-free entry for visitors intending to stay for short periods of time for certain passport holders. Categories include tourism, visiting friends or relatives, business, attending exhibitions, fact-finding, social visits, and international exchanges.
Passports must be valid for at least 6 months, and visitors must prove their intent to leave Taiwan within the visa-free time period, either by a flight reservation or some type of itinerary providing for an exit from the ROC territory.
Visitors who are not eligible for visa-free entry may be eligible for entry via a different scheme by way of approved third country visas or may be eligible for online e-visa application. Others are required to apply for a visa at a diplomatic mission abroad. For more information, please skip to the lower section of this page.
Visa-Free Stay
90
day visa-free stay:
United States, United Kingdom, Canada, Australia, Ireland, New Zealand, Germany, France, Netherlands, Japan, South Korea, Andorra, Austria, Belgium, Bulgaria, Chile, Croatia, Cyprus, Czechia, Denmark, Estonia, Eswatini*, Finland, Greece, Guatemala, Haiti, Honduras*, Hungary, Iceland, Israel, Italy, Latvia, Liechtenstein, Lithuania, Luxembourg, Malta, Marshall Islands, Monaco, Nicaragua, North Macedonia*, Norway, Palau, Paraguay, Poland, Portugal, Romania, San Marino, Slovakia, Slovenia, Spain, Sweden, Switzerland, Tuvalu*, Vatican City
30
day visa-free stay:
Singapore, Malaysia, Belize*, Dominican Republic, Nauru, St. Kitts & Nevis*, St. Lucia*, St. Vincent & Grenadines
14
day visa-free stay:
Philippines*, Thailand*, Brunei*
HK, Macao, and PRC China
Hong Kong, Macau
Hong Kong and Macau visitors are allowed a 30 day entry after application of Exit & Entry Permit (入台證) either at the airport after landing or in advance online (港澳居民網路申請). Due to the political situation between Taiwan and the PRC, HK and Macao passports will not be stamped and visitors are required to apply for an Exit & Entry Permit. HK BNO passports are treated the same as HKSAR passports. Macao Portugal passports are treated as Portugal passports with visa-free entry. For more info, please visit the Bureau of Consular Affairs website. To avoid complexity, the ROC government recommends that HK/Macau/PRC residents that hold a secondary foreign-issued passport use that passport to enter Taiwan. Visitors to Taiwan who have previously entered on a secondary passport will be required to use that passport for subsequent visits.
---
Mainland Chinese (PRC)
Mainland Chinese (PRC) passports held by residents of the mainland (大陸, 內地) are subject to a unique set of rules and restrictions for entering the Taiwan area by usage of an Exit & Entry Permit (入台證). Application procedures for the Exit & Entry Permit vary depending on the current residency of the applicant.
E-Visa and Visa Application
Nationals from select countries may be eligible to apply for an eVisa with the Bureau of Consular Affairs online, single entry for 30 days. A credit card (Master, Visa, or JCB) is required to process the application online.
For those requiring a visa application, please visit the closest ROC mission abroad. Please be aware that except for the 12 countries that recognize the ROC, the ROC representative office will be titled similarly to Taipei Economic and Cultural Office (such as in the United States). For a complete list, please visit the Bureau of Consular Affairs website.
Nationals holding passports from the following countries are eligible for application of an eVisa:
United Arab Emirates, Turkey, Bahrain, Saudi Arabia, Oman, Qatar, Kuwait, Bosnia & Herzegovina, Burkina Faso, Colombia, Dominica, Ecuador, Kiribati, Kosovo, Mauritius, Montenegro, Panama, Peru, Solomon Islands
Travel Authorization for Southeast Asians
Travelers holding passports issued by India, Vietnam, Indonesia, Cambodia, Laos, and Myanmar may be eligible to apply online for an R.O.C. (Taiwan) Travel Authorization Certificate, permitting up to a total 90 days in Taiwan, multiple entry with 30 days each stay.
Conditions for application include a residency or visa with an expiration date within the last 10 years for the United States, Canada, Japan, Australia, Korea, New Zealand, United Kingdom, and Schengen Zone (EU), and the applicant must not have been previously employed as a blue-collar laborer in Taiwan. E-Visas must be currently valid if issued by Australia or New Zealand, and Japanese visas (or Japan Visa Waiver Registration) must be accompanied by proof of previous entry to Japan or an itinerary to visit Japan after leaving Taiwan. Work permits are not allowed. After approval, the Certificate should be printed off the website and presented with the passport and other required documents upon entry into Taiwan.
More detailed regulations for each individual country can be found with the Bureau of Consular Affairs. Travelers who have visited Taiwan previously by a specially-issued visa may not be eligible based on their previous visa status.
Special Notes
Filipino, Thai, and Brunei passport holders are eligible for visa-free entry when providing evidence of travel funds, hotel reservations and travel plan, and local host or friend contact information to immigration authorities at the border.
United States citizens with Global Entry may be eligible for Taiwan's e-Gate border clearance system after application with the National Immigration Agency in Taiwan. For frequent visitors, this may be preferable to waiting in line to pass immigration inspection. Those holding residency documents in Taiwan (ARC, APRC) can directly use the domestic system without needing Global Entry.
Visitors from the United States and Japan whose passports will expire soon may enter Taiwan as long as their passport is valid for the intended period of stay up to 90 days, depending on travel plans and document expiration date.
Emergency Passport Holders: Emergency passports from visa-waiver countries are allowed to visit the ROC, and should apply for a tourist visa in advance at a Taiwanese diplomatic mission (consulate), or may apply for a landing visa upon arrival. USA emergency passports are permitted visa-free entry for 90 days.
Yellow book proof of polio vaccine by visitors from or those having visited Israel, Pakistan, Madagascar, Mozambique, Democratic Republic of the Congo, Malawi, and Afghanistan is no longer required. At the moment, there are effectively no travel restrictions related to COVID. The Ministry of Foreign Affairs recommends that visitors first verify any entry restrictions related to epidemic control with the Taiwan Centers for Disease Control hotline 1922.
This information is accurate as of 11 September, 2023, and is sourced from the Bureau of Consular Affairs.